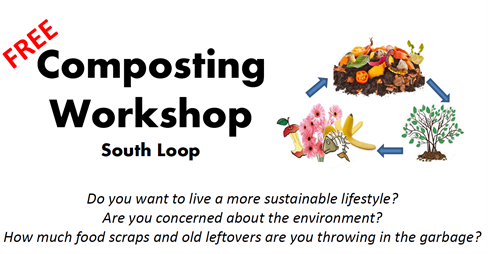 Most of us know that composting is great in so many ways…keeping food stuff out of the landfill, making really healthy soil for our plants. But how does composting in the city work?
The Alliance for a Greener South Loop partnered with the Chicago Conservation Corps to present a free composting workshop to help answer all composting questions. This was our most highly attended event.
~~~~~~~~~~~~~~~~~~~~
This hands-on workshop introduced various types of composting and systems for city-dwellers to use, with an amazing line-up of composting Ambassadors and sustainable farming and gardening Leaders, like the innovative vertical farm The Plant and the nation's first industrial worm composting facility, Nature's Little Recyclers
Participants learned step-by-step how to set up a personal worm composting bin, work with food waste-hauling companies like Pleasant Farms, Waste Management and Collective Resources, and the latest on outdoor composting City ordinances. Everyone received a Composting Toolkit, a chance to win free starter-kits, and other materials to succeed.
Speakers included:
Erlene Howard – Owner, Collective Resource, Inc.
Meghann Maves – Total Recycling Program Manager, Waste Management
Neale Baldyga – Sustainability and Green Space Coordinator, Columbia College
John Mulrow – Interim Executive Director, The Plant
Jonathan Scheffel – Farmer, Pleasant Farms
Ed Hubbard – CEO/Founder, Nature's Little Recyclers
Gail Merritt – Founder, The Alliance for the Greener South Loop